Ronald G. Sultana
Working on :
Members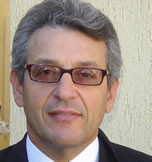 University of Malta
Faculty of Education
Msida MSD 06 - MALTA
ronald.sultana@um.edu.mt
Ronald G. Sultana is Professor of Educational Sociology and Comparative Education, Director of the Euro-Mediterranean Centre for Educational Research at the University of Malta, and Director of the UNESCO Chair in Mediterranean Education Studies.
He has published in the following areas :
Guidance policies in the learning society; lifelong guidance and the European challenge; apprenticeship and vocational education; educational and national development; vocational curricula, globalisation and the new economy in a North-South perspective; quality education and training; personal and social education; higher education and equality of access.
He is presently a consultant to ETF (European Training Foundation) on a project looking at career guidance in the Middle East and North African region.