Alan Scott
Working on :
Globalisation and the Knowledge Economy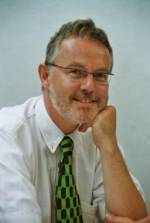 Institut für Soziologie
Fakultät für Politikwissenschaft & Soziologie
Universität Innsbruck
Universitätsstraße 15
A 6020 INNSBRUCK
Österreich
+43 (0)512 507 7310
alan.scott@uibk.ac.at
Professor of Sociology, University of Innsbruck.

Before coming to Innsbruck in 1999, Alan Scott taught at the UEA, Norwich and University of Southampton prior to which he was a Postdoctoral Research Fellow in Nuffield College, Oxford. He studied Philosophy and Sociology at the University of Essex and took a PhD in Sociology at the University of Leeds.
Subeditor of the political sociology section of Blackwell's Sociology Compass  (fully online from Jan. 2008)
Journal editorial boards memberships: Sociology (1994-97); Max Weber Studies (2000-) and Learning and Teaching in the Social Sciences (LATISS) (2007-)
Scientific Advisor on the EU research project Trust in Food (2002-05)
Convenor of the Theory Study Group of the British Sociological Association (1993-99)

Visiting positions:

Visiting Professor, Institut D'Etudes Politique de Paris (Sciences Po), 1997
Visiting Fellow, Centre for the Arts, Humanities and Social Sciences (CRASSH), University of  Cambridge, Easter Term, 2008.
Vincent Wright Visiting Chair, Sciences Po, 2009.

His main research interests lie in political sociology, organizational governance, and social theory
Some publications about globalisation and HE

'Governing Disciplines: Reform and Placation in the Austrian University System' (co-author
with Claudia Meister-Scheytt). In Jeroen Huisman (ed.) International Perspectives on the
Governance of Higher Education. London: Routledge, 2009: 52-68.

Bright Satanic Mills: Universities, Territorial Development and the Knowledge Economy (coeditor
with Christian Burtscher, Alan Harding and Stephan Laske, and contributor). Aldershot:
Ashgate 2007
'Universities and the regulatory framework: The Austrian university system in transition' (coauthor
with Christian Burtscher and Pier-Paolo Pasqualoni). Social Epistemology, 20 (3), 2006:
241-58. Special Edition on Universities in the Knowledge Economy: Places of Expectation/
Spaces for Reflection? edited by Tim May and Beth Perry.

The Limits of Globalization: Cases and Arguments (editor and contributor). London:
Routledge, 1997