Marijk van der Wende
Working on :
Globalisation and the Knowledge Economy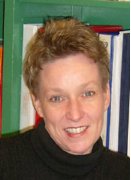 Center for Higher Education Policy Studies (CHEPS)
Universiteit Twente
Postbus 217
7500 AE Enschede
+31.53.489 32 63
m.c.vanderwende@utwente.nl
Marijk van der Wende holds professorial chairs at CHEPS and at the Vrije Universiteit Amsterdam.

She is currently the President of the Governing Board of the OECD's Programme on Institutional Management in Higher Education (IMHE) a member of various national and international advisory committees and editorial boards.

Her research focuses on the impact of globalisation on higher education and related processes of internationalisation and Europeanisation. She published widely on how these processes affect higher education systems, their structure and governance, institutional strategies, curriculum design, innovation, quality assurance methods, and the use of technology.