Lynne Chisholm
Working on :
Curriculum, Pedagogy and Assessment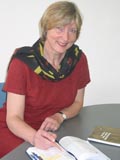 Leopold-Franzens-Universität Innsbruck
Institut für Erziehungswissenschaften
Liebeneggstrasse 8
A-6020 Innsbruck
+43 512 507 40 41
ezw-Leitungssekretariat@uibk.ac.at
Lynne Chisholm, Univ.-Prof. Dr., holds the Chair for Education and Generation at the Leopold- Franzens-University of Innsbruck in Austria and is Director of its Institute of Educational Sciences.
A widely published specialist in education, training and youth affairs in comparative and intercultural context, she is also regularly involved in undertaking European and international studies and reports in these fields.
Following two decades as a university lecturer and professor at universities in Northern Ireland, England, Canada and Germany, she worked for fiveyears at the European Commission's Directorate-General for Education and Culture in Brussels on prospective policy development. Before returning to academic life, she spent four years working on lifelong learning at CEDEFOP (European Centre for the Development of Vocational Education and Training) in Thessaloniki, Greece, combining this with research professorships at the University of Newcastle (UK) and then at the Danish University of Education in Copenhagen, Denmark.