Jari Multisilta
Working on :
Digital Technologies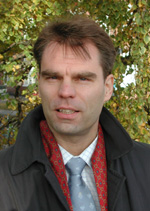 Tampere University of Technology
Information Technolgy, Pori
Pohjoisranta 11
PO Box 300
FIN-28101 PORI, FINLAND
+358-2-627 2747
jari.multisilta@tut.fi
Current research activities
Advanced Multimedia Center is lead by professor Multisilta. The aims of Advanced Multimedia Center are to:
• Explore and develop human centered web technologies in order to support human activities with technology.
• Teach and train professionals using problem based methods based on the research.
• Apply knowledge in cooperation with national and international companies and research institutes.
Research is emphasized on three areas: to explore human activities in technology rich environments, to study networked learning and usability issues (f. ex. navigation and educational gaming), and to study semantic web technologies. Multimedia applications and mobile technologies are in the focus of the research.
TUT Pori is coordinator in the MOMENTS project, funded by Academy Of Finland and Tekes, the National Technology Agency, which aims to develop models and methods for future learning using mobile technologies (http://www.aka.fi/learn/). TUT Pori is also coordinating a project funded by the Finnish Work Environment Fund. This project studies methods and technologies (mobile and wireless) that could be applied to support teachers in their work?

digital technologies