Lázaro Moreno Herrera
Working on :
Education Inequalities and Social Justice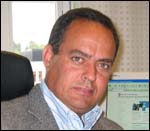 Örebro University
Department of Education
701 82 Örebro
Sweden
+ 46 (0)19-30 32 90
lazaro.moreno@pi.oru.se
Moreno Herrera has worked in different educational institutions in Cuba as class teacher (81-83), school inspector (83-86), subject teacher in secondary school (86-87), deputy head master (88-90), lecturer in courses of educational leadership (90-91), research leader (91-94) and university lecturer (94-97). Since 1993 he has also been a visiting scholar, guest researcher and guest lecturer in universities and colleges in Costa Rica, Finland, France, Denmark, Japan, Norway, Spain and Sweden. He is, since August 2000, a Senior Lecturer at the Department of Education, Örebro University, Sweden. From August 2000 to June 2005 he also acted as Departmental International Coordinator. He has also been main organizer of international conferences and workshops in education (Cuba, 1994, 1996; Sweden, 2002, 2004, and symposium Convenor EERA 2004, Crete).

His research work covers three main areas: (a) education from an international perspective (b) practical-aesthetical education and (c) cultural historical theory. The list of publications and research work he has done deals with different dimensions of the mentioned areas. The research in education as an international phenomenon includes studies of equity in different educational systems as a dimension of social justice. In 2006 he concluded research work within the project "What about equivalence? The concept equivalence and its different interpretations in different contexts, in different educational policy levels and schools practices" funded by The Swedish Research Council. He is also a co-worker with other European researchers in the project EUROPEP. Comparaison des politiques de education prioritaire en Europe. Evaluation, conditions de réussite, funded by the EU Socrates Program for the period 2006 to 2008.