Sandra Chistolini
Working on :
Social Development of Children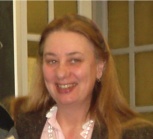 Università degli studi Roma Tre
Facoltà di Scienze della Formazione
Dipartimento di Scienze dell'Educazione
Via Manin, 53
I - 00185 Roma
0039 06 57339119
s.chistolini@uniroma3.it
Sandra Chistolini is responsible for programme of pedagogy for infant and primary school teacher students. She directs the International Master course in Pedagogy for Person, Organisation, Society which includes social sciences studies and stage in schools and multicultural social environment. Her research interests are in comparative studies concerning the image and social construction of teacher professional identity in Eastern (Tagore, Aurobindo, Gandhi) and Western countries (Rudolf Steiner, Maria Montessori, Giuseppina Pizzigoni); in exploring theory and practice of values in school; in analysing the notion of peace and freedom in citizenship education; in using the so called Multiple Interactive Team Learning (MITL) as personal and social structure of knowledge. Both fundamental and applied research are covered in questions, applications, developments concerning the interdisciplinary nature of the sciences of education, with related participation in conferences and seminars in Italy and abroad in Europe, America, Africa, Asia. She is author and co-author of more than 80 works among books, entries of encyclopaedia and dictionary, and more than 100 articles published in scientific national and international Journals. Some of her publications are: Pedagogy of citizenship. The development of intercultural education in teachers' university training (Pensa, 2007); Science and education. University handbook of pedagogy (Angeli, 2006); Educate for peace (Angeli, 2001); Antiracism in Italy and Great Britain. A study of comparative education (Angeli, 1994); Intercultural education. Teachers' training in Italy, Great Britain, Germany (Euroma, 1992). Since 2004 she is member of CiCe and National Coordinator.

social development of children