Ivaylo Tepavicharov
Working on :
Teachers and Teaching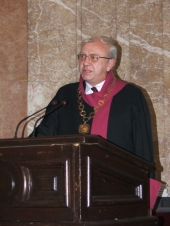 University of Sofia
Faculty of Education,
15 Tzar Osvoboditel,
Sofia, 1000
+359 899 41 56 68
itepavicharov@yahoo.com
Ivaylo Tepavicharov is Associate Professor of Pedagogy in the Faculty of Education, University of Sofia"St. Kliment Ohridski". His academic career began 1988. More than 20 years Ivaylo Tepavicharov is engaged in different theacher training programs for BA, MA and In Service. Teacher Training Courses: Measurement and Assessment; Educational Evoluation; Theory of Teaching and Curriculum; Sociology of Educaion.
In 2001-2006 Ivaylo Tepavicharov was a Head of Department of Didactica (Theory of Teaching and Curriculum) and from 2006 to present he is a dean of the Faculty of Education.
Between 2004 and 2006 Ivaylo Tepavicharov was an expert at Standing Committee on Educational Sciences in National Agency for Evaluation and Acreditation.
In different time Ivaylo Tepavicharov was participated in different projects and other academic activities, including for example:
Expert of Microsoft-Bulgaria in project "Parthnership in learning"(2006)
Coordinator of research project "Pedagogical Model for Anticorruption Education in Secndary School" funded by USAID (2004-2005)
Coordinator of  workshop "Foster care" organized by University of Sofia "St. Kliment Ohridski" and Austrian Instut for Eastern and Southeastern Europe. (2001)
Coordinator of research project on School anxiety funded by University of Sofia Fund for Scientific Research. (2000-2001)
Participation in Bulgarian planing team in international project for in-service teacher training "The Reading and Writing for Critical Thinking" organized by Consortium for Democratic Pedagogy and funded by Open Society Fund. (1998-1999)
Coordinator of research project on education of children with deviant behavior funded by National Center for Scientific Research, (1994-1995)
Much of Tepavicharov's earlier work is focused on teachers' training, educational evaluation and social and cultural conditions of teaching learning process. His more important book is Youth Subculture. Sofia University Press.(2000) and Measurement and Assessment in Social Work. ETA-press (1999) - both in Bulgarian language. Recent work includes analyses of the various strategies and methods of assessment and their implications for education; education of gifted and talented students; new patterns of teachers' training in the modern societies.

teachers, teaching and teacher education